Making a Hybrid even cleaner! LPG
02-09-2013, 10:35 AM
Join Date: Feb 2013
Posts: 3
Making a Hybrid even cleaner! LPG
---
In the UK converting Petrol engines to LPG is a very common way to save on running cost and reduce engine emissions. As most Hybrids run on Petrol it is possible to do the same but there are some added complications with the stop start of the petrol engine.
We have converted a number of the Toyota Prius range. I was recently aproached by a customer wanting to convert a Hybrid Toyota Estima. Fortunately we had solved all the technical issues with the Prius conversions and all went smoothly with this one.
The Hybrid engine presents a couple of issues where the engine switches on and off changing from electric to petrol.
For best emissions and fuel consumption a modern OBD compliant electronic piggy back LPG injection system must be used. The down side with this type of system is that they usually have to run for some 30 seconds on petrol each time the starts before automatically changing over to LPG running. With some software modifications we have been able to build a system that does the first start on Petrol and then once the engine has warmed enough for the lambda sensor to be functional then switches over to LPG. Each subsequent start is then made on LPG to minimise petrol use. To make this work correctly a permanent ignition live must be used rather than an engine ignition live as used in typical conversions.
Here are some photos of the conversion
Front veiw
Hybrid
Tank primed and then undersealed
Colour coded filler rear mounted
Change over switch mounted in spare switch blank
Vapouriser mounted behind the engine (no space in any other place)
Very little room for water hose connnection
Injector rail mounted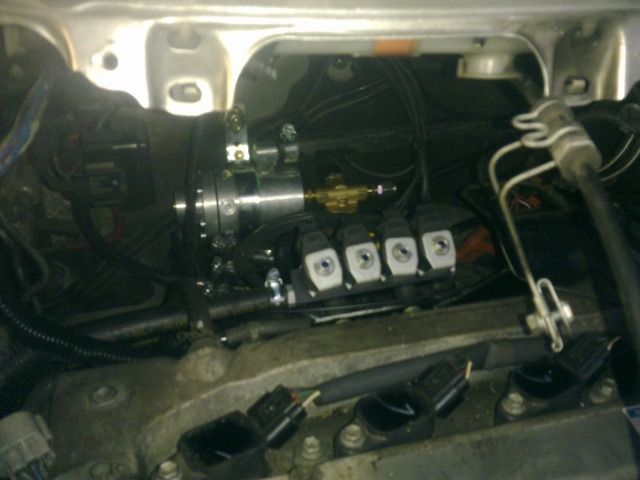 ECU mounted under front scuttle
Power taken from main 12 volt connection
Engine bay after refitting scuttle and air filter assembly
LPG filter moved forward for ease of maintenance
Dai
http://www.classicswede.com/
email
[email protected]
Thread
Topic Starter
Forum
Replies
Last Post
GM Hybrid Trucks, Cadillac Escalade Hybrid, Chevrolet Tahoe Hybrid & GMC Yukon Hybrid